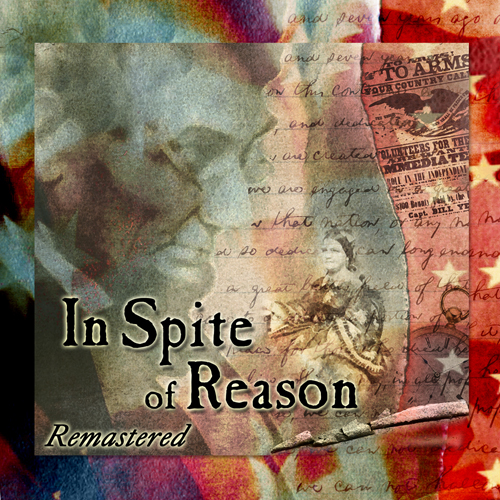 In Spite of Reason©TM
A Pop Rock Opera - Musical based on the life of
Abraham Lincoln during the Civil War
by John Doucette and Tony Cavallo
Available as digital music download or on double CD music set with complete
48 page booklet
Original CD box set release: 1995
Digitally Re-Mastered online download release: Nov 2010
---
| | | |
| --- | --- | --- |
| Tell Me More | CD Reviews | Music Clips |
| Where To Buy It | Talk To Us | Related Sites |
---
In Spite of Reason
This digitally Re-Mastered concept album is a pop rock opera (operock) - based on the life of President Abraham Lincoln and others during the Civil War, highlighting - love, struggle, loss, death, conflict and hope. Digital re-mastering has brought to life the enormous detail and rich sound of this tremendous original cast recording.
In Spite of Reason is presented as a sung-through musical portrayal of the personal trials and tribulations of one of the most well known figures in history and others during that period. Although it can be called a pop rock opera, In Spite of Reason can also be labeled as a pop musical drama with rock overtones and intelligent lyrics that touch the heart and entice the mind into thought.
This recording will appeal to those who embrace and enjoy diverse styles of pop and rock music. The style of music in this recording may not appeal to fans of actual civil war era music. The intent of In Spite of Reason is not to merely recapitulate the fiddles, fifes, banjos and drums of civil war songs, but instead, to weave a tapestry of modern music as a sound bed for sung-through storytelling.
This musical work is neither high-brow nor rudimentary. After listening a few times, you too will be singing along with these great songs just as many folks worldwide have already done.
Those interested in history, as well as fans of pop musical concept albums such as Jesus Christ Superstar, Tommy, Evita, theater, story music and even modern musical stage enthusiasts will find In Spite of Reason a refreshingly new presentation of this famous story and time in history. It attempts to maintain historical accuracy of events and incorporates words and phrases actually spoken or written by the individuals portrayed.
The "Studio Cast" double CD album is accompanied
with a 48 page booklet containing all the lyrics.
---
Reprinted with the Kind Permission of
Rock Beat International Magazine
This is a pop/rock opera about Abraham Lincoln and the Civil War. It was written by John Doucette and Tony Cavallo and is sung by a variety of singers. Obviously, translating the events of the Civil War into a musical format is a very ambitious and difficult undertaking, but Doucette and Cavallo pull it off quite admirably.
The songs are written in the voices of a variety of characters - Lincoln, his wife Mary, members of Lincoln's cabinet, General McClellan, a slave couple named George and Janie, and John Wilkes Booth. This allows for the expression of a variety of viewpoints on the events of the war. At the same time the songs fit together very neatly into a coherent narrative.
Musically, the songs are a hybrid of pop, rock and theatrical music, with primarily rock oriented instrumentation. The work contains several outstanding songs. One of the best is "Loss of a Child", a beautiful melancholy ballad about the loss of the Lincoln's son, Willie, sung as a duet between Lincoln and Mary. Equally great is "Suddenly It's Peaceful", a gorgeous ballad marking the end of the war and the calm before Lincoln's assassination, also sung as a duet between Lincoln and Mary. Heide Lee, who sings the part of Mary Lincoln, turns in excellent performances on both numbers. Other highlights include another strong ballad, "Reborn", the mournful dirge, "Still got a whip", and the victory celebration, "Long Live Abraham".
In Spite of Reason succeeds admirably in offering a musical portrayal of Abraham Lincoln and the Civil War.
Copyright 1996 Rock Beat International
_____
Reprinted with the Kind Permission of
ShowMusic Magazine
Although the cover of IN SPITE of REASON (Sparx Echo Productions SECD50501; 46:25/43:04) states it is the "Original Cast Recording", there is no evidence in it's enclosed booklet that this pop rock musical has yet been staged. John Doucette and Tony Cavallo, authors of the lyrics and music, have attempted to personalize the Civil War and subsequent events leading to the Emancipation Proclamation, primarily through President Abraham Lincoln's viewpoint.
It is a lot to condense into a musical (and may actually be more appropriate to opera). But Doucette and Cavallo manage to keep their focus, in spite of the temptation to go epic with battle scenes, lovers parted, and other wartime cliches we've seen in movies. They even end their story as Lincoln and his wife leave for Ford's Theatre on that fateful night, instead of taking it to a too obvious conclusion.
There are Evita and Jesus Christ Superstar influences to be heard along the way, to be sure. However, those who like those musicals might just find things to like in this one, too. It's performed by Doucette (as Lincoln), Cavallo (Secretary of War Edward Stanton), Dave Marsh (the Narrator), Shawn Doyle (General McClellan), Heide Lee (Mary Lincoln), Ekello Harrid (in the dual roles of the President's secretary and George, a slave), Tarra Cariaso (George's lover), and Gordon Holder (John Wilkes Booth).
Copyright 1995 ShowMusic
_____
---
Music Clips
Multiple songs samples at:
http://www.cdbaby.com/cd/doucettecavallo
Song List Order:
01. Overture 3:42
02. How Does the World Look Through His Eyes 3:51
03. This Man Lincoln 2:18
04. Seen As A Threat 1:03
05. Lincoln's Speech 3:18
06. 25 Miles 1:34
07. Oath of Office 0:35
08. Forward to Richmond 3:48
09. Quick and Bold 2:02
10. It Takes a General 3:09
11. Family Life 2:43
12. We've No Choice 2:28
13. It's a Little Singular 2:23
14. Means Nothin' If You Ain't With Me 2:25
15. Reborn 2:56
16. Some Other Day 1:49
17. Suddenly 1:54
18. Lee and I 1:28
19. This Man's Army 2:26
20. A Victory Reported 1:24
21. He Great 2:07
22. Still Got A Whip 0:53
23. Damn It All 1:25
24. Loss of a Child 4:03
25. Off His Perch 0:48
26. Oust McClellan 2:37
27. As President To Be 1:53
28. What Keeps You In Favor 3:07
29. Mary 3:17
30. Long Live Abraham 3:13
31. The Soldier's March Home 2:43
32. Flex of One Finger 3:56
33. Father, Please Hurry 1:39
34. Shirt and Tie 2:27
35. Suddenly It's Peaceful 3:17
36. (Reprise) How Does the World Look Through His Eyes 4:19
---
You can order In Spite of Reason from any of
these fine Companies
New digitally RE-MASTERED (2010) entire recording is available
through your favorite online download music store such as:
*
Original (1995) release double CD box sets with libretto
may be available from the following:
CD is available under UPC #7-06336-05012-1 ---- SPARX Product ID #SECD50501
*
Footlight Records
Email: footlight@aol.com
*
Dress Circle
London Watford, United Kingdom
Email: info@dresscircle.london
Website: www.dresscircle.london
*
Sound of Music
Schornstr. 33, D-45128 ESSEN, Germany
Website: www.soundofmusic-shop.de
*
All Music Services
Email: info@allmusicservices.com
Website: www.allmusicservices.com
*
Or you can order direct from
SPARX Echo Productions
P.O. Box 926, Dept P, Millsboro, DE 19966 USA
---
For more information or questions on our liberal LICENSING of
In Spite of Reason
-- Lyric and Chord Chart file --
send email to: info @ sparxecho.com
You can also reach us at.
SPARX Echo Productions - P.O. BOX 926
Millsboro, DE 19966 USA
---
Wikipedia Rock Opera
Baltimore Rock Opera Society
List of Rock Operas
Boston Rock Opera Company
Drama Theater Guide Drama Theater Guide
Don Linke's Rock Musicals and Rock Operas
Musicals Net
London Theatre Cast Recording Lists
Playbill Online Magazine
---
IN SPITE of REASON - ©TM Copyright 1995 - 2020 Doucette and Cavallo
Copyright 1995 – 2020 SPARX Echo Productions
Updated on Jan 2020
---